Premise: The SEC as Old School Tag Teams
Let's face it, I'm like the Fox Reality Television Department. I see a good idea, and I tweak it for my purposes. So, I saw Black Heart Gold Pants did a post comparing College Football Teams to pro wrestlers? I say two is better than one, I say the late 80′s are better than now, and I say that I remember the Conquistadors, and I care.
Mississippi State is…The Conquistadors
There's a term in wrestling called Jobber to the Stars. You have a guy or a team with some name recognition. And they get to beat some random dudes. (Jackson State, Middle Tennessee State) But if they face somebody with any sort of expectation? They're basically a guarantee game. Thus, they are the Conquistadors.
Auburn is…The Colossal Connection
Because Auburn is a school with traditionally outsized expectations. Bobby Lowder is a man who wanted this team to be as good as the Hanging Gardens of Babylon. The problem with that? Chris Todd's arm is as strong as a post Princess Bride Andre was agile. The defense hits hard and I know that Antonio Coleman's going to poke the eye out of Jimmy Jack Funk if he crosses him.
Arkansas is…the Rockers
This is mainly due to their post team career. The offense is something that is destined for bigger and better things. A lot of talent on that side of the ball. The defense? They're the one destined for a long string of drug arrests and 18 person audiences. Ryan Mallet's got a superkick that would take your head clean off.
Ole Miss is…The Fabulous Freebirds
They're the team that's built on swagger and style. You have a gunslinging quarterback in Jevan Snead. You have two playmakers in Dexter McCluster and Shay Hodge. You have a defense that will hit you as if you have been blindsided by a foreign object. I know Oxford doesn't seem to have much bad on their streets, but there is a chance for the most genteel championship riot of all time.
Alabama is…Money Inc.
Everybody has a price. Everybody's gonna pay. And you know that the Million Dollar Saban? He always gets his way.
HAHAHAHAHAHAHAHAHAHAHAHA!!!
Well.
LSU is…The Four Horsemen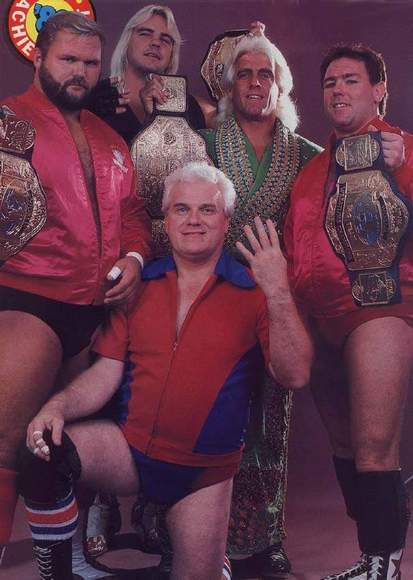 They aren't exactly the most charismatic team that you build a narrative over. Not to say that Les Miles doesn't work well from the meme that he is the Ric Flair of the SEC. (If Ric Flair wore hats.) But the team is at its best when the offense is technically proficient and the defense will beat you down in the parking lot. Last year? This was the iteration where you had to deal with Paul Romo or Steve McMichael.
Vanderbilt is…The Fabulous Rougeaus
The offense is filled with ennui. Self-loathing. People who smoke clove cigarettes. Add to that a love of independent film and DeGrassi. The defense is filled with technical proficency and hard hitting. They are as well coached as a team managed by the Mouth of the South. But this is a team that reeks of Quebecois.
Kentucky is…The Public Enemy
Few teams get so much out of so little like Rich Brooks and the Wildcats. They're trying for their fourth straight bowl win off of little more than Randall Cobb, Trevard Lindley, and a frying pan. You don't know how they're going to do this. But if you take them lightly? They will put you through a table.
South Carolina is…The Hart Foundation
If the Hart Foundation was in some sort of an Ultamaceian time paradox. The offense is Bret Hart. The bitter, concussed, stroked out Bret Hart. The defense? Ellis Johnson has a team that is ready willing and able to punch you in the mouth, stroke their awesome goat, and cackle about it. Just ask Russell Wilson. But the best there was isn't exactly going to hold up their end of the deal.
Tennessee is…Demolition
Now, you look at the way the Road Warriors had galvanized mid-80′s tag-team wrestling and the WWE asked why not us? So they have the Dave Clausen like success of the outfit known as the Powers of Pain. But you dress up this new era? You get the power and the paint of top prospect Bryce Brown and the outlaw tomfoolery of one Lane Kiffin. In some form or fashion, these kids will be Walking Disasters.  
Georgia is…The Twin Towers
As this is the greatest official rivalry in the SEC, you need to have the great foil to the super duo. And as Florida is the Mania and the Madness? Georgia has to be the Law and Order and the Jive Soul Bro. They are a talented team, and if you are anybody else besides a championship contender and or Florida? They will break your face off.
Florida is…The Megapowers
You have Hulk Hogan (Tim Tebow) and Randy "Macho Man" Savage (Brandon Spikes) both in their primes. You have Urban Meyer as a savvier Miss Elizabeth. You have a team that's bound to win every game that they play. The only thing that I can see that ends them is if Brandon Spikes accuses Tim Tebow of jealous eyes.
So while you wonder if anyone can take the Megapowers down? I'll do something else. I already know, dear reader.
I already know.